Marketing can be a tricky game. Everybody knows that advertising is designed to get people to spend money on products and services, so savvy companies supplement their advertising with relationship marketing.
When a company works to establish good relationships, people are perfectly willing to divulge information such as their email and physical addresses, phone numbers, and ages in exchange for tangible benefits like discounts, early notification of upcoming sales, and coupons for items they regularly purchase.
If the benefits of giving up all that information are hard to perceive or nonexistent, people can feel cheated and may react by no longer giving a company their business or, even worse, complaining about their experiences to anybody who will listen.
I recently had a negative experience with a restaurant that I thought was my friend. Well, that might be exaggerating a little, but my husband and I have spent hundreds of dollars there and have subscribed to their newsletter. I always fill out their customer survey after our meals, telling them how delicious the food was or calling out a server for exceptional service. I thought our patronage and feedback deserved a little reward. But the restaurant's latest email to me didn't deliver.
What makes this restaurant so special to us is that it serves world-class cuisine and it's only 20 minutes from our house, which is a big deal because we live in the middle of nowhere. We only eat there once or twice a year because it's pretty expensive. Not that I'm complaining, since we believe the food and the experience are well worth it, but we rarely leave this restaurant for less than $150.
The other day I got a "happy birthday" email from them. Many restaurants offer perks to their customers on their birthdays — free meals or appetizers, a discount of some sort — so I expected something along those lines when I opened the email. Instead, I got this: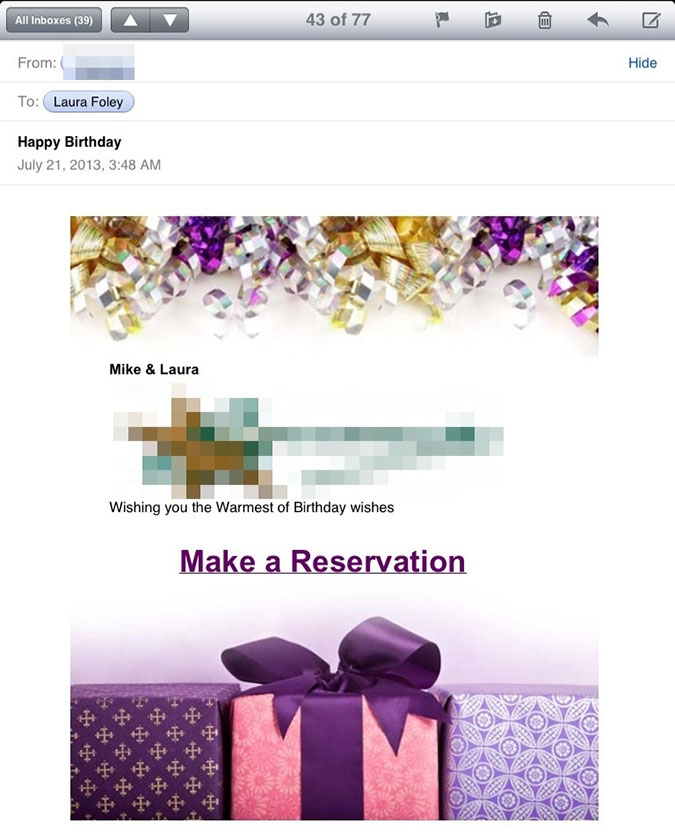 Clicking on the "Make a Reservation" link brought me to the OpenTable restaurant reservation website. No goodies, no freebies, nothing. Would it have killed their bottom line to have offered a 10% discount off of an entrée? Or a free appetizer? Probably not. But it would have done wonders for me. Instead, their message was:
"Happy Birthday! Come drop some bucks at our restaurant!"
What a missed opportunity.
How does this relate to PowerPoint? It's simple: good luck to you if you are just going out on sales calls and your presentation essentially says "Here I am! Buy my stuff!" Your presentation should be an accelerated version of relationship marketing. You let potential clients know who you are, acknowledge their problems, and deliver a compelling story about how you are going to make their lives easier. You describe the benefits they will realize by doing business with you. You explain to them exactly how you are going help them save time and/or money.
Great companies know how to reward customer loyalty with birthday programs. Great presenters know how to generate customer loyalty by demonstrating tangible results. Don't simply offer an opportunity for people to buy what you're selling. People can do that without you.