PowerPoint makes it easy to create handouts, but the default style is one of the worst things you can give your audience. Here's a better idea.
Default PowerPoint handout
Here's what the default PowerPoint handout looks like: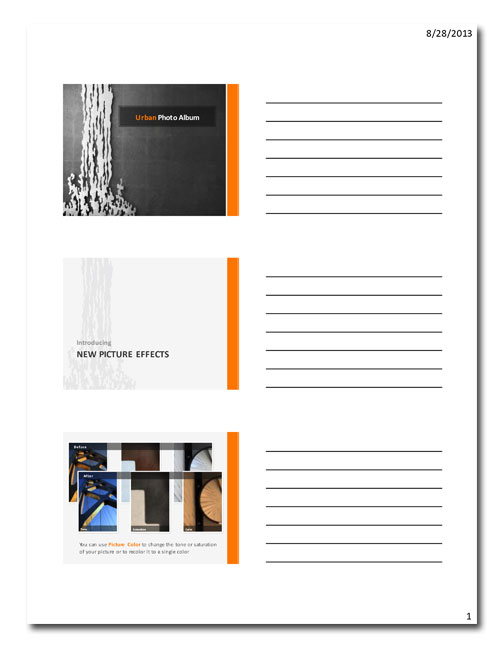 It seems helpful enough. This kind of handout shows an image of your slide with a space to write notes. But wait up! Before you go and print a hundred of these for your next big speech, consider this:
This kind of handout is a huge waste of paper.
Animated slides result in slide images that look like a many-layered mess.
Decks that use full-screen pictures look great to the audience but are useless on handouts, since many of them may appear on-screen for only a few seconds.
Presentations that have lots of animation and pictures contain lots of slides. Are all of them noteworthy? Probably not.
Finally, let's be honest. How many of this type of handout have you ever actually filled out and kept on file for future reference? Yeah, that's what I thought.
A better kind of handout
"But, Laura!" you say. "I've got to give my audience something!" OK, then, let's take a look at another style of handout, one that includes the speaker notes.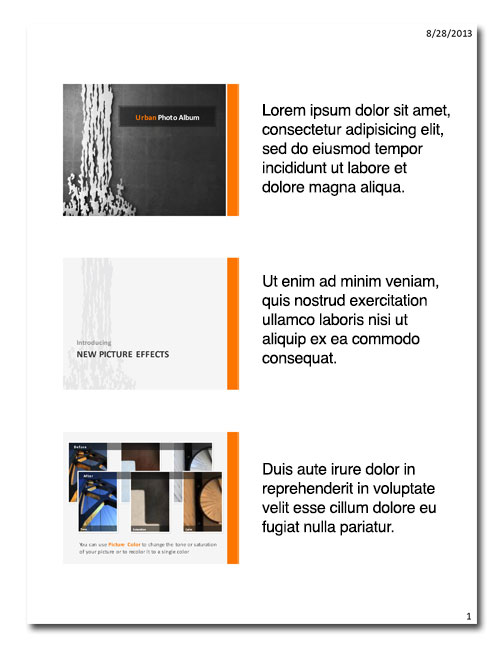 Hmmm, this seems better. Let's compare the benefits to the drawbacks of this kind of handout.
Benefits of Handouts
Drawback of Handouts
Handouts eliminate the need to take notes.
You should encourage note-taking so that people can jot down things they find relevant. If they have a handout, it's already done for them.
Handouts provide a reference during your presentation.
...which your audience will be ignoring if you distribute them when they arrive. They'll be too busy flipping through their handouts to pay attention to you.
Handouts can be referred to long after your speech is over. 
Again, how many handouts do you have on file that you actually go back to? I'm willing to bet it's not a large number.
The best kind of handout
"All right, now you're just being negative!" I can hear you saying now. "What are we supposed to give our attendees, anyway?" You should give them the best kind of handout: a brief summary of your main talking points that provides ways to continue the conversation.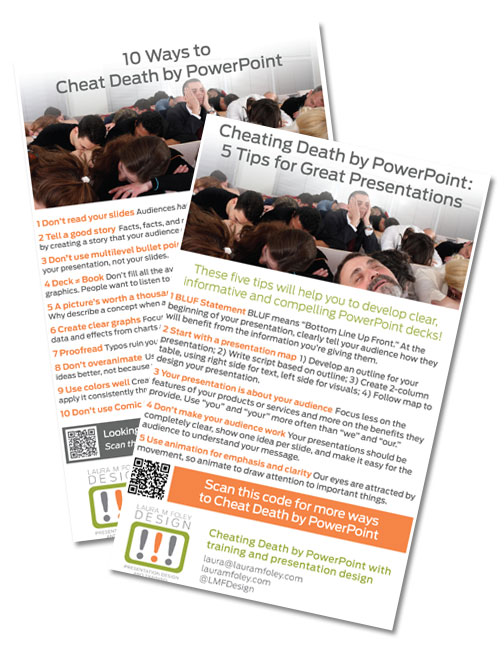 Here's a picture of some handouts that I distribute at my presentations. What makes them the best kind of handout?
They have titles: The titles clearly state the contents of the handout.
They are branded: From the image to the typeface to the colors to the logo, these handouts have all of the brand elements of Laura M. Foley Design.
They look alike: Handouts are marketing collateral. As such, they should look like they all come from the same company.
They cover the highlights: Providing the entire script of your presentation can be overkill. By showcasing your main talking points, you provide a good summary of what you want people to remember.
They are interactive: There's a QR code that people can scan which brings them to my website.
They provide contact information: I give people three ways to get in touch with me: my email address, website URL, and Twitter handle.
It's not hard to create this type of handout; you can do it in PowerPoint. Save them as PDF files and have them professionally printed for handouts that do what they're supposed to: be helpful and allow future interaction.
Your Turn
What types of handouts have you found to be the most effective?