One of the most prevalent visual trends these days is flat design. This is characterized by bold color blocks, thick lines and the virtual elimination of 3D effects such as bevels and shading. You've seen it a million times; here is an example of flat icons: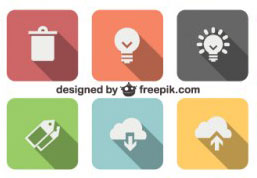 Flat design is very clean and machinelike, which works well for the types of technical, engineering and scientific presentations I usually create. But some presentations can really benefit by using a totally different style.
Flat ain't always where it's at
I recently saw a presentation given by a colleague of mine named Kathy, a lovely woman who helps people to discover and nurture their hidden strengths. The main subjects of Kathy's speech were human emotions and behavior. It made absolutely no sense for her to sterilize her message by using flat design so she went in the opposite direction by drawing her own pictures to illustrate her main points.
Like a 21st-century overhead projector
Take a look at one of the slides from Kathy's presentation. It's a bit confusing to view this animation without the context of the speech, but there's still something to be learned from it.
© 2017 Kathryn Louise LeBlanc
Using very simple line drawings and animation techniques, Kathy has succeeded in creating a kind of 21st-century overhead projector. It looked as if she could have been sketching out her ideas right there in front of us because they seemed quickly executed and unpolished. The result is that Kathy's drawings had the immediacy of a napkin sketch. It's as if her ideas were flowing so quickly that there was no time to refine the graphics. Because the animations were timed to Kathy's story, it all made sense during the live presentation.
Could Kathy have spent time designing flat icons to illustrate her story? Absolutely! But these wouldn't have suited her subject matter, nor would they have helped us to understand her any better. Kathy isn't a slick presentation designer; rather, she uses her presentations to communicate her ideas. The graphics she drew herself had more warmth and charm than any flat icon ever could.
How to draw in PowerPoint
Drawing in PowerPoint is very simple. On the Home tab in the Ribbon, in the Drawing group, you'll find the Scribble tool. It's the icon that looks like a little squiggly line.

By right-clicking on your doodles, you can edit the points in your lines if you need to. But don't get too hung up on perfection. It's not called the "Scribble tool" for nothing!