For people who constantly work with PowerPoint, add-ins help to streamline the workflow and enable users to do more in less time. Add-ins are supplemental programs that add custom commands or features to PowerPoint. Strangely, although I've been using PowerPoint since 19*cough-cough*, I've never explored how add-ins could work for me. That is, until last month when I was contacted by Power User Softwares to try their add-in, Power-user.
You know how in The Wizard of Oz everything's in black and white until Dorothy lands in the magical wonderland of Oz? It was like that with Power-user. This add-in is an absolute game changer.
The Basics
The Power-user add-in creates a new tab in PowerPoint's Ribbon (the thing with all the tabs running across the top of the screen when you open PowerPoint). It's designed to group all of the commands and actions you'd ever need into a single place. Here's what it looks like after you install the software:

The groups included on the tab are Find, Insertion, Reuse, View, Text, Format, Font, Color, Alignment, Organize, Size, Pictures and Share. Most of the icons are self-explanatory and are very helpful. But upon closer examination you'll discover, as I did, that there is way more to this software than meets the eye.
Free images and cool tools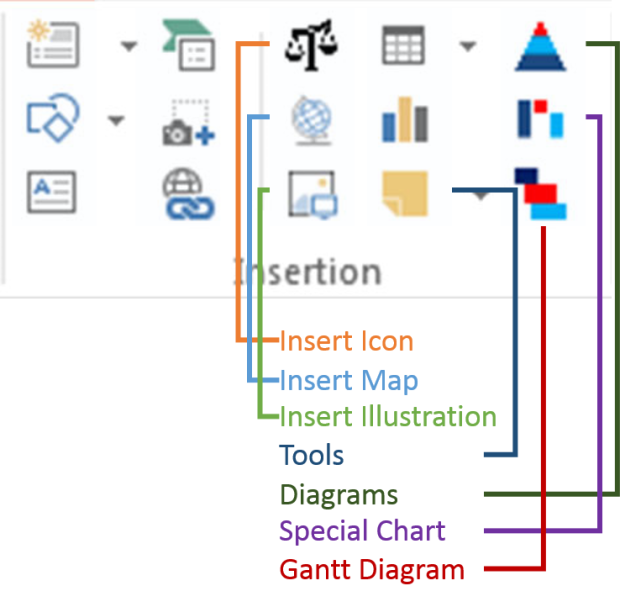 Many of the icons in the Insertion group are familiar and require no explanation. But take a look at the functions I've called out. Power-user gives you 400+ free icons, a sampling of editable maps, free illustrations and photos.
The Diagrams, Special Chart, and Gantt Diagram provide you with many choices for making your data accessible and easy to understand. You have to play around with them to get a sense of how powerful these tools are. All of the charts you create using these tools are fully editable and ungroupable, giving you full control over how they look.
The Tools button gives you access to Sticky Notes (which are way more noticeable than notes made with the built-in Comments tool), Add Mini Slide (creates a miniaturized picture of an existing slide), Slide summary, Paste to All Slides, and Progress tools (adds a progress bar to all slides in your presentation).
Amazing PowerPoint tools
Have you ever wanted to delete all of the footers in a presentation? Remove all of the animation? Automatically move shapes so that the edges touch? All this and more is possible with Power-user! It's like the coders read my mind and came up with answers to all of the vexing, time-consuming tasks I've been doing manually all these years. There really is so much to this add-in that I could write several articles about all of the features. I will call out a few outstanding tools that I've turned to again and again:
Merge Shapes/Fragment: Use this tool to change overlapping shapes into separate, distinct shapes. We've been able to do this in Illustrator for years; now it's PowerPoint's turn.
One-click Scaling: In the Size group, you can activate/deactivate proportional scaling of objects with a single click. Without this tool, you have to select the shape, open the Format Shape window, click on Size and Properties, click on Size, and select/deselect "Lock aspect ratio." Who has time for all that?
Select Similar Shapes: Set the parameters for what you want to select: the same fill color, typeface, line weight, size…you name it. One click and all like objects are selected.
Internal Margins On/Off: Self-explanatory. Great for quickly getting text to fit properly within shapes.
Distribute Horizontally/Vertically and Increase/Decrease Spacing: Select a series of objects, then click on Distribute Horizontally or Vertically so that they're evenly spaced apart. You can then automatically increase or decrease this spacing so the objects take up more or less room on the slide.
Sample Templates
Power-user gives you over 100 concept slides, diagrams and charts that you can populate with your own data. All of these are fully editable so that they work with your presentations. And with a single click you can add slides you've designed to the template file. This is a huge time saver and a powerful feature!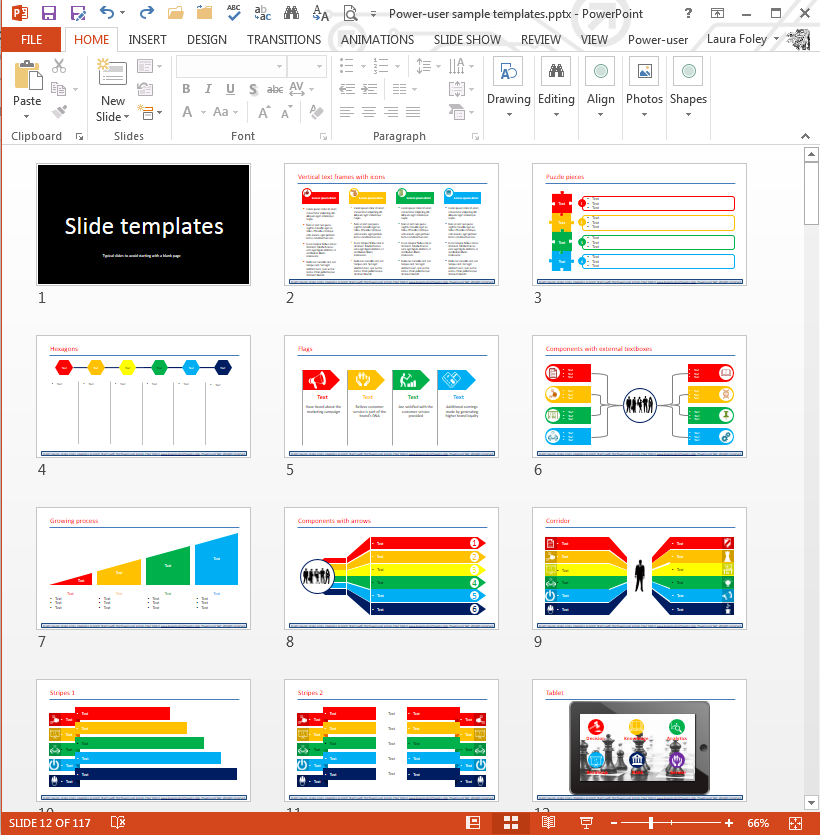 Compatibility
Power-user works with PowerPoint 2007, 2010, 2013 and 2016 for Windows. It does not work with PowerPoint for the Mac.
How much does it cost?
UPDATE: When I wrote this article, there was no mention of how long the free trial version would last. But my own trial version ended without warning after I'd been using it for 37 days. I had assumed that the honeymoon phase would last forever, but, sadly, it was not to be.
Although they are working on a free student version of the software, the regular price for a single-user annual license is €198. I leave it to you to decide after you've played around with the trial version whether or not it's worth the price.
Download Power-user
This is an outstanding add-in and you owe it to yourself to install it on your system right away! You can download your free copy of Power-user at www.powerusersoftwares.com.