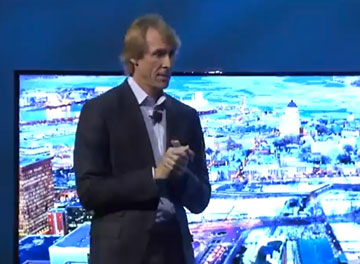 To say that the Consumer Electronics Show, or CES, is an electronics and technology trade show is like saying that a 1954 Château Lafite Rothschild is a bottle of wine. It is that and so much more. It is a huge deal and presenters who are introducing new products do whatever it takes to make a great impression because they know the whole world is watching. Most presenters, that is.
Held annually in January in Las Vegas, Nevada, CES is the international showcase for all things geeky, futuristic, and cool in the world of electronics and technology. CES is where major manufactures launch their big products for the year, and it's where Samsung announced the arrival of its first commercial Curved Ultra High Definition (UHD) television. They've partnered with director Michael Bay (whose films include Pearl Harbor, Armageddon, and the Transformers series) to create content especially for this new technology, so they invited him onstage on January 6 to officially announce the product's debut. Sadly for Mr. Bay, things didn't go well.
His embarrassing on-stage meltdown has made him the target of comedians, TV presenters, websites, pundits, bloggers, Twitter users, and armchair quarterbacks all over the world. If you haven't already seen it, take a look at what happened:
It's easy enough to make fun of the guy because he's a public figure. But put yourself in his place for a minute and you'll begin to feel for him. What would you have done in that situation, knowing that your presentation was being viewed by people all over the world and recorded for posterity? It's enough to make anybody freeze up. But things might have gone differently if he had done some work ahead of time.
Preparation
I imagine that talking in front of a global audience takes a lot of guts. So, certainly, if you know that you are going to be doing just that, you should make every effort to become comfortable with addressing large groups of people. It seems clear from the video that Mr. Bay is happier behind the lens than in front of it, which is natural given his profession. But certainly there must have been times when he could have presented in front of large audiences to get a sense of how it feels. Heck, he's Michael Frickin' Bay! He could've made it happen just by picking up the phone and offering to speak to any number of organizations.
Practice
During his presentation, Mr. Bay hesitates then says that he's lost his place with the teleprompter. He waits for a moment for the words to catch up, then abandons the teleprompter and says he'll "wing it." But a seasoned public speaker never truly wings it. It might seem like that's what he's doing, but that effortless delivery, that nimble thinking on his feet, his off-the-cuff asides, and his command of the material are the result of practice, repetition, and more practice. Just as an Olympic athlete makes a luge run look like anybody could do it, presenters who practice their speeches over and over again know their entire routines and make it look easy.
Mr. Bay got off to a bad start by speaking first. It was clear by his gesture that Samsung exec Joe Stinziano (the other man onstage) had been about to speak when Mr. Bay started. And what he said was clearly in response to the question that Mr. Stinziano did not have a chance to pose. After that gaffe, Mr. Bay was unable to recover his timing. With more practice, he might have avoided that situation altogether.
Having a Plan B
We all know that technical glitches are common and unpredictable. They can derail even the most well-rehearsed presentation if there's no contingency plan. For a speech like Mr. Bay's that doesn't rely on a timed slide show, it would've been easy for him to have simply responded to Mr. Stinziano's questions when he lost his place on the teleprompter. By sticking to the script with his answers, Mr. Bay might have allowed the teleprompter operators to scroll to where he was and enable him to regain his place. Even without the teleprompters and the miscue, a person like Mr. Bay has a wealth of experience he can draw upon to talk about how his work can be enjoyed using this new technology.
Participating in a speaking group
Participating in a speaking group is a great way to become a better public speaker. Through constant practice and delivery, people can learn what works and what doesn't. One of the most well-known speaking groups is Toastmasters International.
Toastmasters offers a forum for public speakers of all skill levels where they can test new material, hone their delivery, and learn to think on their feet. A Toastmasters meeting is a great place to learn how to improve your speech research, writing, and delivery. It's where you can test new material to see what parts of your speech works and what could be improved or discarded. Most of all, it's a supportive environment where you receive constructive criticism designed to make you a better speaker. I joined Toastmasters last year and it's helped me to become a much more confident presenter.
Becoming comfortable speaking to groups, preparation, and practicing are the keys to avoiding mishaps like the one Mr. Bay experienced. If he had followed this advice, he might have saved the presentation and, more importantly, his dignity.
Your turn
What might you have done in that situation if you were Michael Bay? How do you turn technical gaffes into opportunities to impress your audience as a presenter?