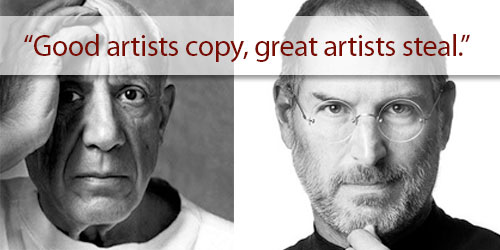 When Steve Jobs returned to Apple in 1997, the company was unfocused and sliding into bankruptcy. It had close to 300 products, none of which was doing exceptionally well in the marketplace. You could pick up Apple shares for about $22 back then.
Jobs streamlined Apple's product offerings to just ten in order to be able to focus on making these ten products great. A string of hits came shortly afterward: the turquoise-and-clear iMac, which broke the tradition that computers had to come in beige cases; the iPod, which revolutionized the recording industry and the way people listen to music; the iPhone, which quickly sent competitors scrambling to catch up with the technology; and the iPad, a lightweight tablet computer so simple to use a child can operate it yet powerful enough to be used extensively for business. Apple's now trading at about $643.
Another thing revolutionized by Jobs was the keynote presentation. He turned keynotes into theatre.
In a 1994 interview, Jobs quoted Pablo Picasso, who famously said "Good artists copy, great artists steal." He wasn't speaking about stealing intellectual property or infringing on patents; rather, he was referring to blending ideas from various disciplines such as the arts, science, and music and combining them in innovative ways to achieve something new. He brought this style of thinking to developing new technologies and to the way he announced Apple's new products.
A recent blog by Carmine Gallo speaks about a small business owner who has landed millions of dollars worth of contracts because he adopted the presentation style of Steve Jobs. Or stole the presentation style, whichever you prefer.
According to Mr. Gallo, Joe Mosed of Equature—a company that manufactures technology to record 911 emergency calls—was on a flight to pitch his product to a new client. He had a typical PowerPoint deck with him that he was going to use. You know the kind: text-heavy, overly technical, boring. Fortunately for Mr. Mosed, he was reading Gallo's book, The Presentation Secrets of Steve Jobs. Long story short, he trashed the original presentation, created and rehearsed a new one, and landed that job and many others.
Jobs developed a knack for public speaking in his later years, adopting a theatricality and style that became world famous. But his way of framing his messages wasn't new. In fact, he addressed the Marketing 101 question that's on every consumer's mind: What's in it for me?
During his keynote presentation in 2001 at the launch of the iPod, Jobs could have shown the technical specifications on a series of boring slides. Instead, he focused on the benefits of the iPod: its tiny size, light weight, ease of use, and data capacity. His phrase "1,000 songs in your pocket" summarized these benefits beautifully and immediately explained why the iPod was a better choice for portable music.
This was the lesson that Mr. Mosed gleaned from the book. He changed the focus of his presentation from how his product worked to the benefits it provides: Simplicity. Reliability. Speed. This became a tagline that summarizes why his product works well in emergency situations, where every second counts.
The main objective of a pitch presentation is to get the prospect excited about your message, to want to find out more. That's when you hit them with the technical specs, the costs, the nuts-and-bolts details. Don't bore the crap out of them with highly technical, complicated, and wordy slides! Steal Steve Jobs's presentation secrets. After all, that's what he would've done.