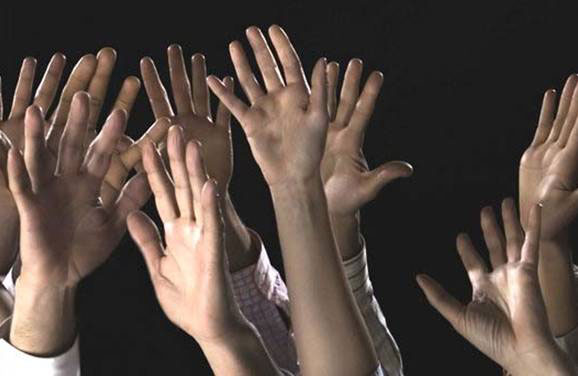 Show of hands, how many of you engage your audience while you're presenting by asking for a show of hands? If you're doing this already, good for you! According to a recent article, 10 Presentation Techniques You Can (And Should) Copy From Apple's WWDC Keynote, by communications coach and keynote speaker Carmine Gallo, it's important to break up your presentations every ten minutes by building in "soft breaks" such as informal polls, videos, and inviting other speakers to the stage.
But this is 2013. While Baby Boomers and Gen Xers might be willing to raise their hands, Millennials are too busy live tweeting and texting during conferences and sessions to give up one of their precious hands for even a minute. Fortunately, there's a slick way to conduct an online poll that allows people to use their whizbang smartphones, tablets, and laptops to vote and see the results immediately on-screen.
Mentimeter.com is a website that allows you to create online polls that you can project during your presentations. You can create polls for free, with an unlimited number of questions and respondents. For more capabilities, you have the option of purchasing a Premium or Corporate membership. The website is very simple and intuitive, as you can see in the screen shot below: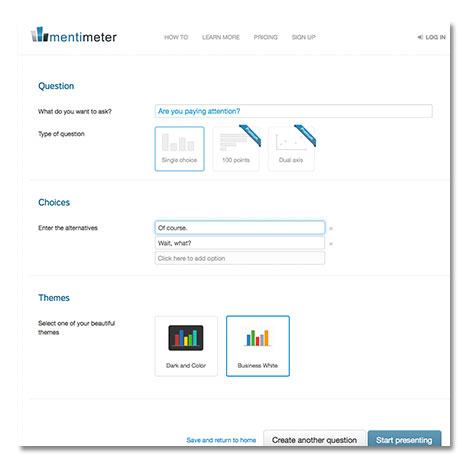 The free membership shows your results in the form of a bar graph with either a light or a dark background. If you want a different type of graph, then you're going to have to upgrade to a paid subscription.
Let's see what you get when you click on the "Start presenting" button at the bottom of the Web page: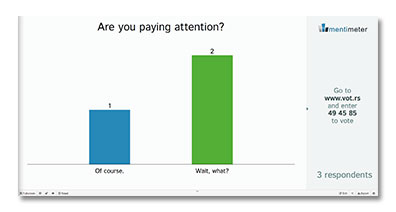 How cool is that? But wait, there's more!
Mentimeter prevents people from voting more than once, which is a nice little feature.
You can create a QR code for your poll if you want to distribute it through different channels.
Results can be exported as an Excel spreadsheet
And all this for free!
Preparation is key
You need to create your poll questions ahead of time so they'll be ready for your presentation. With the free option, you must create a different poll for each question. When you finish your polls, they're saved to your account so that you can access them during your presentation.
Speaking of access, make sure you're connected to the Internet from where you're presenting or you won't be able to display your poll live to your audience. Also, do a test run on the system you're presenting from beforehand, because Mentimeter won't run on older browsers.
OK, you've asked for votes and the people have spoken. How do you display the results during your presentation? After you've confirmed access, here's how you can do a live display of the results:
Open a Web browser behind your presentation
This is the simplest way to show the results. Open multiple tabs, with one poll question per tab so that you can get to them quickly. The downside is that it's inelegant since you'll need to Alt-Tab to switch from your PowerPoint to the browser, plus you'll need to click on the tabs to show each poll. But this way you don't have to install any software.
Display the results from your PowerPoint presentation
For this you'll need a to install a PowerPoint add-in, such as LiveWeb, which is free. This looks really sharp, because you can preload each poll onto its own slide and show everything from within your presentation. However, you need to present from your own system or else get permission to download the add-in to the system you're presenting from (good luck with that). Oh yeah, and it's not available for the Mac. Sorry.
Always have a Plan B
Things sometimes don't work out the way we plan for our presentations, am I right? What if you can't hook up to the Internet, nobody in the audience has a laptop, tablet, or smartphone, or some other technical goof-up prevents you from using Mentimeter?
Simple. Ask for a show of hands.