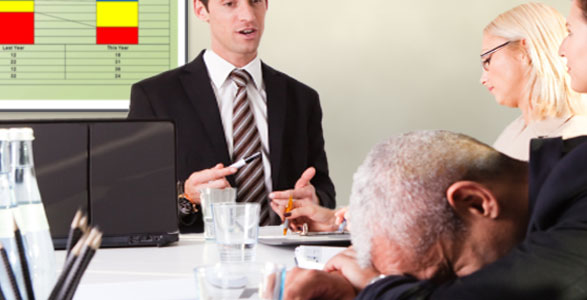 Sometimes it seems like people go out of their way to be terrible at giving presentations. It's almost as if they follow these ten steps to being awful:
1. Show up at the last minute.
To ensure that your audience realizes from the start that you are a crappy presenter, you should make it a point to arrive at your speaking engagement at most five minutes before go time. This will enable you to run around in a panic, determine which of the several thumb drives you keep jumbled around in your pocket is the one with your presentation on it, and open your deck in the Normal view.
2. Don't give yourself any time to mingle with the attendees before your presentation.
Another benefit of a last-minute arrival is that you can keep your attention focused on the computer the whole time and that you don't have to waste any time hob-nobbing with all of those scary strangers in the room.
3. Awkwardly fumble with the mouse to get your presentation into Slide Show view.
By all means don't memorize the fact that pressing the F5 key automatically starts your presentation from the beginning in Slide Show view. Instead, click random places on the screen until a helpful audience member shouts out the instructions. This helps the audience to feel smart.
4. Read your presentation to the audience, making sure your full attention is focused on the screen.
Audiences absorb information so much better if they are read to and shouldn't have the needless distraction of having to make eye contact with you.
5. Stick to the script.
Never allow an audience to distract you with questions, no matter how pertinent to the presentation they may seem. It's just a trick that people like to play on presenters to mess them up by making them lose their places while they're reading off of slides.
6. Avoid using any pictures on your slides
Pictures are distracting so only use text, the more, the better.
7. If you really must use pictures, make sure to use several different styles of clipart.
You want to make your presentation interesting, right? Then use a variety of clipart styles, from line drawings to Web 2.0-type graphics to animated GIFs. Sometimes it can be good to mix things up a little bit. Keeps the audience on its toes.
8. Don't waste your time practicing.
Practicing's for suckers who don't put the full text of their presentation on the screen. The smart money's on learning as you go along with the audience. That's how you keep your presentation fresh!
9. Don't include any calls to action in your presentation.
Any whats to what? Exactly.
10. Be be a clock watcher!
If you've been scheduled for a 20-minute gig, make sure your bag is packed by 19:59 and you're out the door at 20:00 on the dot. Anybody who wants to ask questions about what you just talked about are free to look up the answers on your company website. That's what it's for, right?
Don't follow any of these instructions
Does what you've just read seem like advice followed by any presenters you've seen?
Please, folks, if you want to be a great presenter, do the exact opposite of everything I've written here. If you follow these instructions you'll end up alienating, insulting, and angering your audience! Give yourself the time you need to practice, to meet with members of your audience, and to engage with the people you're speaking with. You'll see improved results from your presentations and your audience will appreciate your efforts.