As you've no doubt noticed, Microsoft stopped offering free photographs via Office.com. Now, when you select Insert/Online Pictures you are faced with a Bing search engine. Which is great if you're looking for photographs that may or may not be legal for you to use in your presentation. Microsoft plays it safe by telling us that the image results are licensed under Creative Commons and that we need to review the specific license for any image to ensure we can comply with it. The trouble is, it's a real time sink tracking down these licenses because the results are from all over the place: blogs, commercial websites, error 404 pages, etc., etc., etc. To paraphrase a famous 2014 meme, "Nobody has time for that."
Ignore Bing
My advice to you is to forget the Bing search engine altogether and stick with the sites that legitimately offer free and copyyright free images. This helps you if, for instance, you're creating a presentation for your company that will be distributed to people all over the world. The last thing you need is a copyright infringement lawsuit!
The other problem, as I mentioned, is the time you waste tracking down the licensing information. Using the Bing search engine to insert pictures into PowerPoint, I spend at least five minutes per image looking for the license. The presentations I create tend to use a lot of photographs, so that's a lot of time spent in admistrivia. No thanks.
Where to find free images with easy-to-find licenses
I have a number of go-to websites that clearly state the licensing terms for their images:
Flickr  The image licensing ranges from public domain to usable with restrictions to all rights reserved, but fortunately it's easy to filter out the results you can't use. Just enter your search term at the top of the screen and click the magnifying glass. Then when you get your results, select the license you want: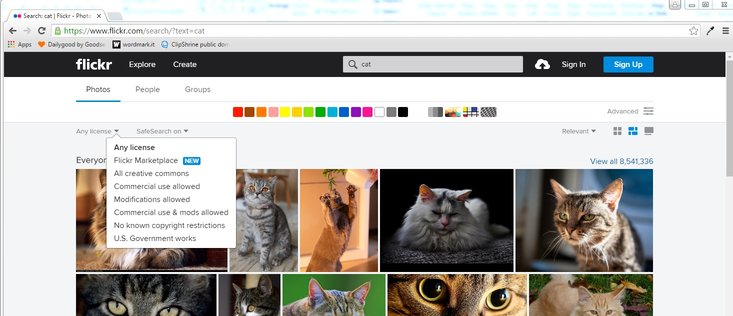 "Commercial use allowed" and "modifications allowed" give you the most flexibility, so I always select one of these.
FreeDigitalPhotos.net This a great site for finding low-cost and free images. The prices vary, but the images with the smallest file size are always free with attribution. The resolution of these images is just fine for PowerPoint.
FreerangeStock The topmost images that come up in the results page are from a commercial royalty-free image vendor. The free stuff is right below that. FreerangeStock asks for author attributions as a courtesy, but their terms dictate that it's not mandatory.
Where to find images in the public domain
Public domain images can be used by anybody, for any purpose, commercial or otherwise, without attribution or compensation. In other words, they're totally free. The downside is that you need to use broad search terms and be willing to settle. For instance, search for "lab technician mixing chemicals under a fume hood" and you're likely to come up empty. Look for "scientist" and you'll see better results.
Here are my favorite websites for finding professional looking images in the public domain:
LifeOfPix The images here are just gorgeous!
Death to the Stock Photo Sign up for a free monthly email containing beautifully shot images.
Morguefile This site tends to have images of varying quality, but there is enough of a range to satisfy most needs. Plus, the images tend to be high-resolution, which is nice.
How do you attribute photographs correctly?
Now that you've taken the high road and legally obtained images you can use, it's time to tell the world where you got them and under what terms. There's a lot to it, so click here to read another article about how it's done.
Your turn
Has the elimination of Office.com changed the way you source images for your presentations? Please comment below!