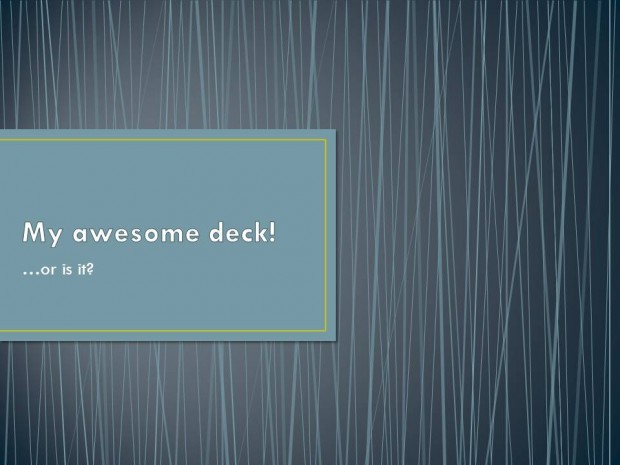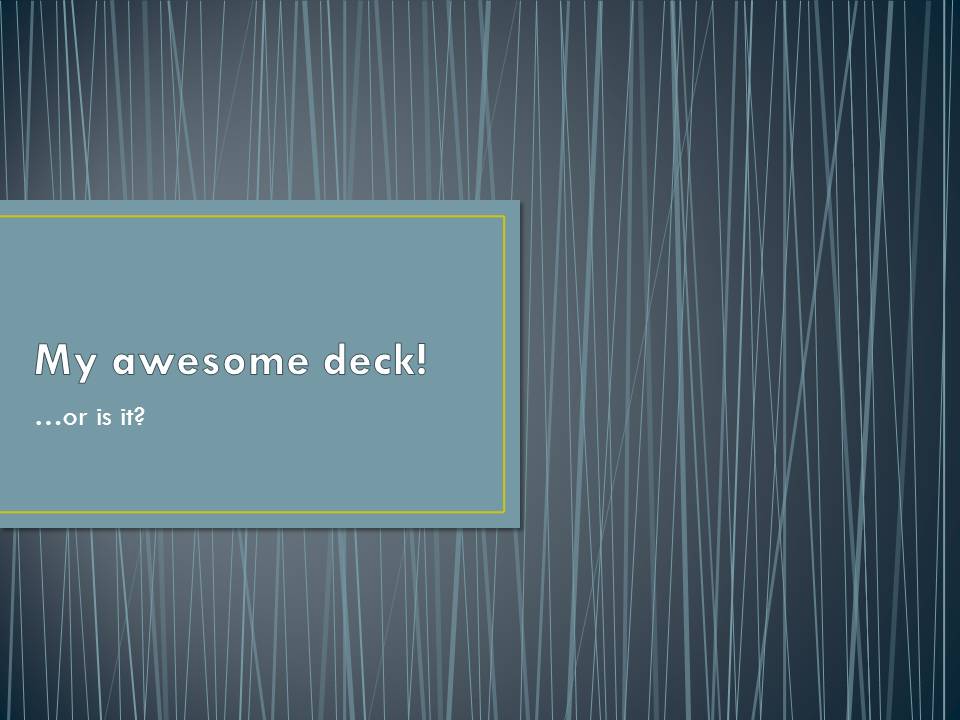 For the graphically challenged or those pressed for time, the templates (or "themes") that come with PowerPoint can be a great starting point for presentations. Themes give you a designed layout, the font choices have already been made for you, and the colors have been selected to match the overall look of the slides. What's not to like?
Well, like many choices in life, the easiest path is not always the best one.
The themes that come with PowerPoint range from OK to "what the heck were they thinking?" I suppose that the best thing these themes have going for them is that the colors always go well with the backgrounds. But for professional use, the themes section on the Design tab is a minefield. I mean, just look at this offering, called "Couture":
The title isn't even lined up correctly with the background! And these themes were supposedly designed by professionals!
So what can you do when you need to format a presentation quickly but you don't have a corporate theme? Well, there are several options.
Built-in corporate themes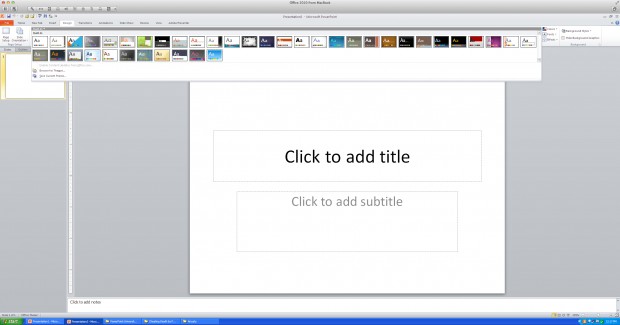 Of the 40 built-in themes that come with PowerPoint 2010, I would say that only a couple of them are good for corporate slide decks. By going to the Design tab and hovering over the different themes you'll find, you can instantly see how each choice affects the way your slides will look. Generally speaking, the less "blingy" and more subtle the theme, the better it will be suited for corporate use. The more garish the colors or radical the design, the less so.
Clarity, Essential, Median, Module, and Origin (you can see the theme names by hovering over them on the screen pictured above) are a pretty decent starting point for a last-minute corporate presentation. All of these are clean and have minimal background elements, giving you lots of slide real estate for your important messages.
Themes from Office.com
While technically not "built in," themes from Office.com are readily accessible from within PowerPoint. Be sure that you "Enable content updates from Office.com" as shown below so that you can access these themes.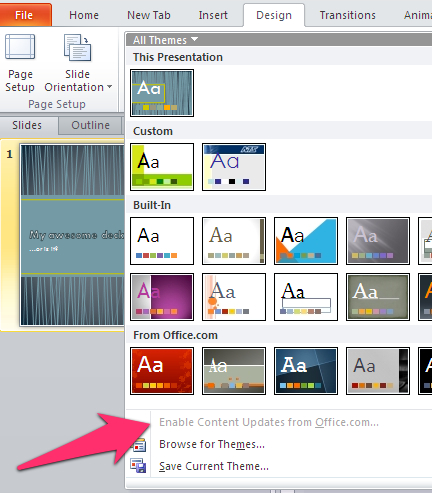 You can also download themes directly from Office.com.
How appropriate these are for your project will be entirely up to you. Personally, I find them to be too busy and distracting but who knows? Maybe there's a perfect match out there for your own needs.
These themes stink! What else have you got?
If none of these solutions work, then you can quickly create a customized theme. Granted, it's no substitute for a professionally designed theme and style guide but it could work out all right.
Follow this step-by-step guide on the down-and-dirty method for quickly creating customized themes.