Storytelling is not a new way of communicating ideas. In fact, people have been telling stories since the beginning of recorded history. Why do stories like the tale of Gilgamesh, the fable of the fox and the grapes, and the saga of Jason and the Argonauts continue to be enjoyed today? Because people can still learn from them and we can picture ourselves in similar situations.
With the right story, you help people to understand about how what you're talking about relates to them. For example, during a sales presentation you could describe a problem that a client of yours experienced that you were able to solve with your product or service. If you're an educator you could tell the story about how penicillin was discovered. A human resource professional could create a fictional character whose actions are unacceptable in the workplace and tell the audience about all of his gaffes.
A typical bullet-point-ridden PowerPoint presentation is the opposite of good storytelling. An outline format is a terrible way to tell a story. It's boring and offers little for a reader to relate to because it's just facts, facts, facts. If you can figure out a way to weave those facts into a story, then they will have more meaning for your audience.
Here's a before-and-after comparison of a Death by PowerPoint slide and a redesigned slide with a good story:
Before: Death by PowerPoint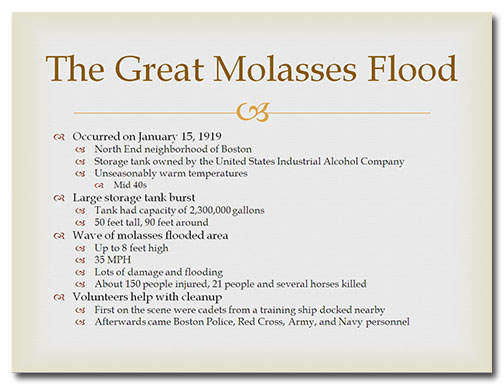 After: The Story of the Great Molasses Flood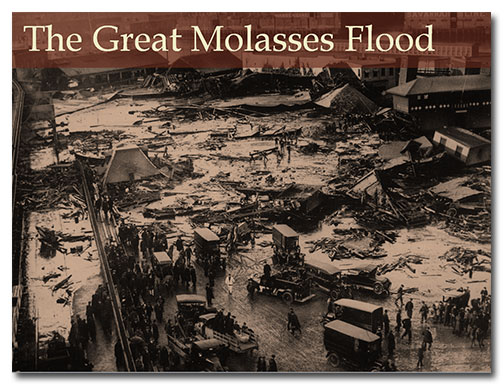 [Spoken by presenter]  Some folks like to complain that others can be "as slow as molasses in January" but you won't hear me saying it because I survived one of the strangest disasters there ever was: The Great Molasses Flood.
It was January 15, 1919, a Wednesday. I remember that it was pretty warm for January—about 45 degrees or so—which was very different from just a few days earlier when the temperature was about zero degrees. There were lots of folks out that day in the North End, just going about their business as usual. In that part of town there's a distillery called the US Industrial Alcohol Company and they used to have these huge storage tanks full of molasses. The tanks were massive—about five stories tall—and could hold more than two million gallons!
I was on my lunch break when it happened. Without warning, there was a low, rumbling sound then I saw a huge, black wave headed straight toward me! I didn't even have time to stand up when the wave took me and carried me along like I was a leaf in a stream! I was tossed end over end as the wave went down, and when it finally stopped I tried to yell for help but I couldn't because my mouth was clogged with sweet, sticky molasses. I passed out and when I came to I saw a cadet from a training ship staring down at me.
I sat up and looked around, and what I saw will haunt me to my dying day. The support beams for the elevated railroad were all twisted up and I could see a train car dangling off the tracks. All around me there were horses struggling to free themselves from the sticky goo, cars covered in what looked like black tar, and the wreckage from ruined buildings. And here and there I could see brown lumps. I knew what they were and I wanted to tell myself it wasn't true, but it was. Twenty-one people died that day.
I was one of the lucky ones because apart from a few bruises and scrapes I was all right. The next day I went back there to see if I could help in any way. It took two weeks for us to clean up the mess: scrubbing cobblestones, clearing out debris, trying to clean up homes and shops as best we could.
I will never forget that awful day as long as I live. And I've never eaten molasses since.

Storytelling works! Try telling one at your next presentation to see if it makes a difference in how your audience reacts. If you want a more scientific explanation as to why storytelling is so effective, check out What listening to a story does to our brains by Leo Widrich. It's a fascinating read!